I asked DH this evening how he feels about driving around rotaries and his response was that he hates them. Not because he dislikes rotaries, but because he says drivers over here don't know how to navigate them properly, and they are too aggressive. He has experience of roundabouts in the UK (as a passenger, not a driver) and thinks they work well when people know how to use them.
American drivers in general have no idea how to drive around a roundabout (more usually called a rotary or traffic circle over here.) Apparently this has to do with the history of 'rotaries' because they did not originally give priority to the traffic
on
the rotary, nor were they necessarily seen as places where the traffic should slow down. Many American drivers have never encountered a rotary. Nowadays, because over the years rotaries have tended to become known as choke points or bad bottlenecks, there is enormous resistance nowadays when local authorities decide that a roundabout is needed. Interestingly, the word 'roundabout' tends to be used now instead of 'rotary' to highlight the fact that the design has changed.
Roundabout design in Britain changed in the 1960's to require that drivers on the roundabout have priority, and that drivers entering the rotary slow down, if not stop, before entering it. This design has worked much better than the American one, and in more recent years American highway departments have begun to use the British design. This diagram makes it look more complicated than it really is I think.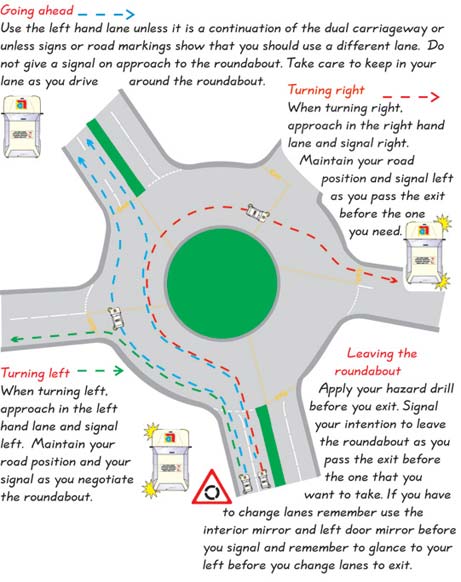 They're not really that complicated and used properly they do keep the traffic moving. Still, people who have no experience of them complain. Recent arguments against a rotary in my town include complaints that there will be extra noise for nearby residents from trucks braking and accelerating. Do they think that if there are traffic lights (sorry, a "signalized intersection"!) the trucks won't have to brake or accelerate? Puh-lease! This particular roundabout would go in at a very simple intersection - currently a "T-junction" - and the entrance to a local park would be altered so that it was also on the roundabout. Both roads are very busy only at certain times of day. A roundabout would be the perfect solution here as it keeps the traffic moving and no one would have to sit at a red light when there's no traffic or sit in frustration for 10 minutes waiting for some polite person to let them out. It does actually happen - there
are
some polite drivers around here, but almost inevitably they have someone impatient behind them who will try to pass on the inside and then cause an accident!
And after all, this is not a Magic Roundabout that's being proposed! That really would make most American drivers' heads spin!